"A lot can be learned about the values of capitalist culture by critically investigating the materiality of the machines, processes and practices of technology that consumer society throws away. In its deconstructed form, everyday obsolete domestic technology exposes the confounding ways that humans treat one another and how we engage with ecology."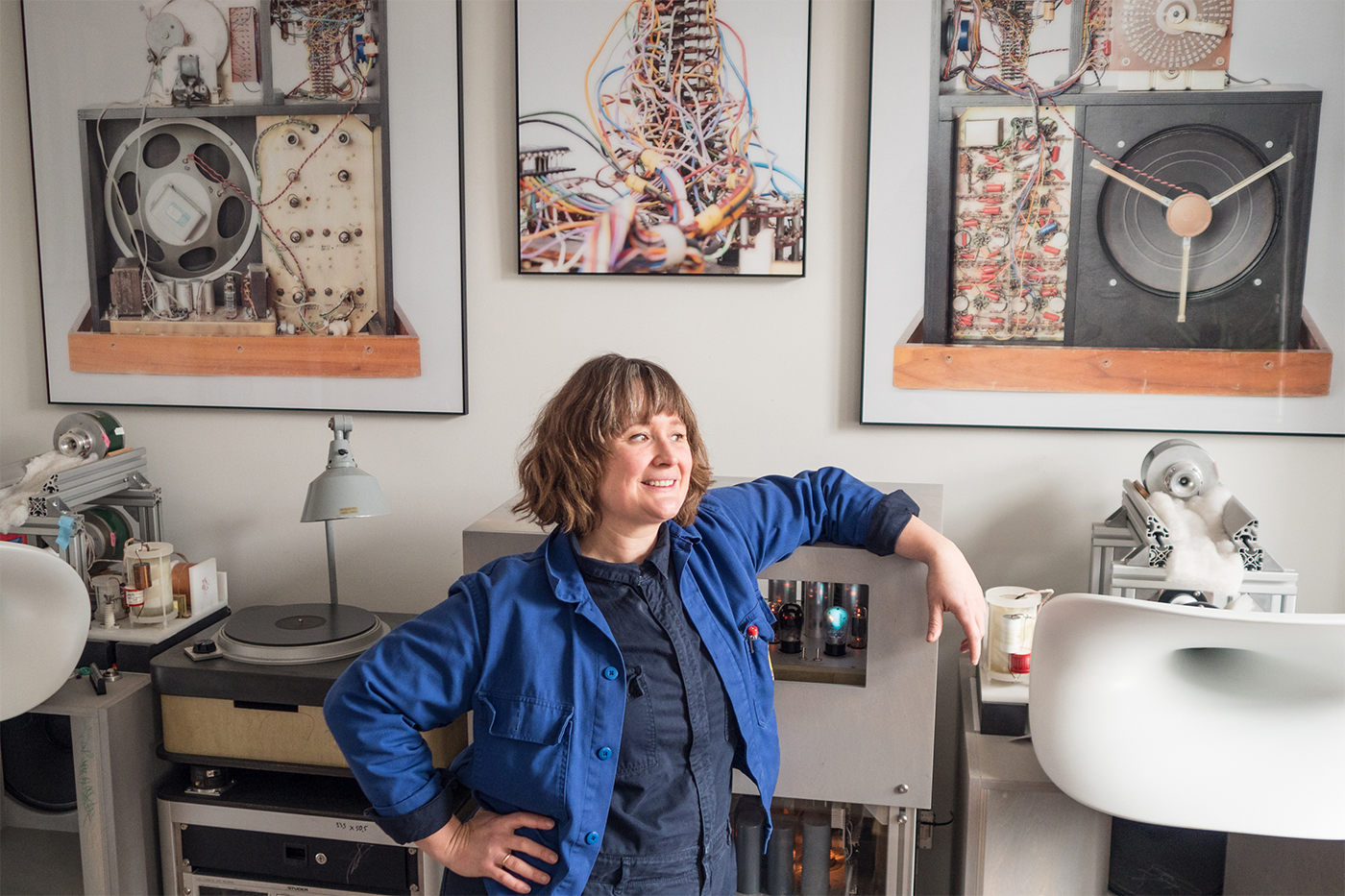 Contact & Inquiries
studio@darsha.org
Connect
instagram dead9vbattery
twitter @Dead9VBattery
About Darsha
Darsha Hewitt's art practice is situated across new media and sound studies and largely grows out of empirical material based experimentation with obsolete technology. She make electro-mechanical sound installation, performances with hand-made electronics, video, drawing and photography. Her studio practice and teaching methods alike take an adventurous hands-on /media-archeological approach to art making, where hidden systems within technology are de/re-mystified as a means to trace out structures of economy, power and control embedded throughout western culture.
Her artwork is presented internationally, with recent exhibitions at Werkleitz Festival (DE), Ars Electronica (AU), Zagreb Museum of Contemporary Art (HZ), Hong Kong City Hall (CH), Halle14 – Centre for Contemporary Art (DE), MU Artspace (NL), The Museum of Art and Design (NYC), Hartware MedienKunstverein (DE),Gaitée Lyrique (FR), Ottawa Art Gallery (CA), Modern Art Oxford (UK), The CTM Festival Berlin (DE) and WRO Media Art Biennale (PL). She has been awarded numerous commissions, grants and awards for her work. Within Germany, she was the recipient of an International Production Stipend from The Edith-Russ-Haus for Media Art and held a fellowship at the Berlin Centre for Advanced Studies in Arts and Sciences at the University of the Arts in Berlin.
She was recently the first residency host for Diversify the Code! – a joint program between Deichtorhallen and Kampnagel (DE). Alongside her art practice, she has worked as an Artistic Associate in Media Art and Design at the Bauhaus University and has been a guest Professor in New Media in the Visual Communications department at Kunsthochschule Kassel and in New Media/Sound at Karlsruhe University of Art and Design. She is presently a guest faculty member in Sound Art and Sonia Studies at the University of the Arts in Berlin. Her contributions to do-it-yourself technology communities are internationally recognized – her workshops and how-to videos have been profiled by technical forums such as the Chaos Computer Congress and Make: Magazine.
Selected Exhibitions, Performances, Presentations...
2022
Künstlerhaus Dortmund (DE)
Kampnagel + Deichtorhallen – Residency Host (DE)
How to Beam! Exhibition @ Kampnagel + Deichtorhallen – Curator (DE)
2021
Kontejner, Zagreb (HR)
Werkleitz Festival, Halle (Saale) (DE)
Ars Electronica, Online – Linz (AU)
Städtische Galerie, Villingen-Schwenningen (DE)
Global Forest, St. Georgen (DE)
2020
Feedback McLuhan and the Arts, Museum für Kommunikation Frankfurt (DE)
Transmediale, Haus der Kulturen der Welt, Berlin (DE)
2019
Computer GRRRLS, MU Eindhoven (NL)
Carbon and Light, Ottawa Art Gallery (KA)
Computer GRRRLS, Gaîté Lyrique, Paris (FR)
Sideman 5000 Listening Session, Hartware Medienkunstverein, Dortmund (DE)
2018
What if it Wont Stop Here, Archiv Books, Berlin (DE)
Computer GRRRLS, Hartware MedienKunstVerein, Dortmund (DE)
Requiem for a Failed State, Auf AEG, Nürnberg (DE)
Sound Effects Festival, ARKO Arts Council Korea (SK)
Requiem for a Failed State, Leipzig Halle14 (DE)
2017
Feedback: Marshall McLuhan & the Arts, West Den Haag (NL)
Close, Never Closer, Universität der Künste Berlin (DE)
Sonic Arcade: Shaping Space with Sound, Museum of Art and Design, New York, NY (US) 2017 Microwave Festival, Hong Kong City Hall (HK)
Future Flux Festival, RDM Submarine Warf, Rotterdam (NL)
Piratebloc Radio: In Situ, Eastern Bloc, Montreal (QC)
The Watch, Transmediale, Langenbeck-Virchow-Haus, Berlin (DE)
SideMan 5000 Listening Session, Spektrum Berlin (DE)
2015
Side Man 5000 Project, FACT – Foundation for Art and Creative, Liverpool (UK)
Kontroll-Modus Feedback, Halle14, Leipzig (DE)
Object Mechanics, Kunstkraftwerk Leipzig (DE)
Side Man 5000 Project, Goethe-Institut, Montreal (KA)
25 oscillators – 25 minutes, 32. Chaos Communication Congress, Hamburg (DE)
25 oscillators – 25 minutes, Frameless, München (DE)
2014
Lab 30, Augsburg (DE)
Sight and Sound Festival, Montreal (KA)
Experiments with CRT TV, Network Consciousness, Residency Unlimited, (NY)
25 oscillators – 25 minutes, APO33, Nantes (FR)
2013
European Sound Art Award, Skulpturenmuseum Marl (DE)
Going Dark, Transmediale/Lab for Electronic Arts and Performance, Berlin (DE)
WRO International Media Art Biennale, Wrocław (PL)
Electrostatic Bell Choir, Blackwood Gallery, Toronto (KA)
Electrostatic Bell Choir, Stéphanie Lagueux, SKOL, Elektra | Montreal (KA)
25 oscillators – 25 minutes, Piksel Festival, Bergen (NO)
25 oscillators – 25 minutes, Modern Art Oxford, Oxford (UK)
2012
Electrostatic Bell Choir, Edith-Russ-Haus für Medienkunst, Oldenburg (DE)
Electrostatic Bell Choir, Pulverturm Oldenburg (DE)
25 oscillators – 25 minutes, New Music Festival, Vancouver (KA)
2011
Deep Wireless Festival, NAISA, Toronto (KA)
WWKA, MUTEK 12th Edition, Montreal (KA)
Deep Wireless Ensemble, NAISA, Toronto (KA)
WWKA, Nuit Blanche, Musée d'art contemporain de Montréal (KA)
2008
end + Receive V.10, Winnipeg (KA)
The Québec Triennial, Musee d'art contemporaine de Montreal (KA) 2008 My Computer, Gallery 300m3, Gothenburg (SE)
Crosstalk, FrontGround, Galeria Manolo Rivero, Merida (MX)
2007
Personal Soundtrack Emitters, Video Pool, Winnipeg (KA)
Media Povera, Ottawa Art Gallery (KA)
Make Art Festival, Poitiers (FR)
2006
Damaged Goods, Piksel 2006, Bergen Center for Electronic Art (NO)
Les racines d'Origine, Art Origine, Strasbourg (FR)
Press Play, Interaccess, Toronto (KA)
Residencies (selected)
2021
KONTEJNER – European Media Arts Platform Residency, Zagreb (CR)
2016
Sonic Wild{er}ness, Hailuoto (FI)
2015
FACT – Foundation for Art and Creative Technology, Future Humans Production Residency, Liverpool (UK)
2013
STEIM – Studio for Electro-Instrumental Music, Research Residency, Amsterdam (NL)
PACT Zollverein – Research Residency, Essen (DE)
Stipendium für Junge Künstler im Bereich Sound Art, Braunschweig University for Art (DE)
2012
Edith-Russ-Haus für Medienkunst, Produktionsstipendium, Oldenburg (DE)
2010
Cultivamos Cultura, Bio-Art Research Residency, Sao Luis, (PT)
2008
Western Front Media Arts Society, Research Residency, Vancouver (KA)
Interviews / Catalogues / Bibliography
Hewitt, Darsha. Meet the Machine: Sideman 5000 Edition. Interface Critique 2, ed. Florian Hadler, Alice Soiné, Daniel Irrgang (Heidelberg: Unversitätsbibliothek Heidelberg/arthistoricum.net). 2019
Valiquet, Patrick. "100% Expert!" Mastery and Equality in Darsha Hewitt's Sideman 5000 Adventure. In Jóri, A., & Lücke, M. (eds.), The "New" Age of Club and Electronic Dance Music Culture. Springer Verlag, 2020.
Gaikis, Lona, Schimana, Elisabeth Ed. Hidden Alliances Versteckt Verbunden, Ars Electronica, Hatje Cantz Verlag, 2019.
Langill, Caroline, Catherine Sinclaire. Carbon + Light: Juan Geuer'S Luminous Precision, Exhibition Catalogue, Ottawa Art Gallery, 2019
Neubert, Clara. Mit dem Rasenmäher zur gesellschaftlichen Emanzipation, mdr.de/Winter 2017
Ludovico, Alessandro. 20 Oscillators in 20 Minutes, Neural Magazine, issue 53 / Winter 2016
Williams, Elliot. 32C3: 20 OSCILLATORS IN 20 MINUTES, Hack-A-Day, 2016
Kirn, Peter. 20 Oscillators in 20 Minutes is Comic Gold, Create Digital Music, 2016
Walter, Moritz. Colour Changing LED Makes Techno Music, Hack-A-Day, 2016
Smith, Greg J.. Slinging Beats with Darsha Hewitt – A Side Man 5000 Interview, Creative Applications 2015
Bell, Donald. Learn Electronics from the World's Oldest Drum Machine, MAKE: Magazine, 2015
Migone, Christof. "Hear Hear" Blackwood Gallery – University of Toronto, 2015
Debatty, Régine. We Make Money Not Art, Glitches and vintage baby monitors, interview (online), 2014
Kropiowski, Łukasz. Do it Yourself Art – Prace Darshy Hewitt, Artpunkt 19, Article, 2014
De Menezes, Marta. Sul Sol – Cultivamos Cultura, Exhibition Catalogue, 2013
Smith, Greg J.. Invisible Forces, Domestic Rhythms, Text for Solo Exhibition, 2013
Migone, Christof. "WoodTwo" Blackwood Gallery – Catalogue University of Toronto, 2013
Himmelsbach, Sabine. (für das Edith-Ruß-Haus für Medienkunst) "Produced@" Revolver Verlag Berlin, 2013
De Menezes, Marta. Sul Sol – Cultivamos Cultura, Exhibition Catalogue, 2013
Christof Migone, "WoodTwo" Blackwood Gallery – University of Toronto, 2013
Gérin, Annie. Perambulations: Art of Motion and the Streets of Ottawa" dans La culture en transit : mobilités culturelles Brésil-Canada / Cultures in Transit : Cultural Mobility in Brazil and Canada, Pascal Gin et Walter Moser (eds), Ottawa, University of Ottawa Press, coll. « Transferts culturels, 2012
McCallum, David. Darsha Hewitt: Electronics Cowgirl, Music Works Magazine, Summer 2010, #107
Falvey Emily. Electronic Blue Orchids: Media Povera Catalogue, The Ottawa Art Gallery – ABC Art Books Canada, Ottawa, Canada, Catalogue for exhibition: Sept. 11th – Nov. 11 2007, pp. 14-15, 54- 57, 60
Cole, Crys. Zen and the Art of Listening. 2007, Poolside: Nano-Mega, Videopool, Winnipeg